Chaney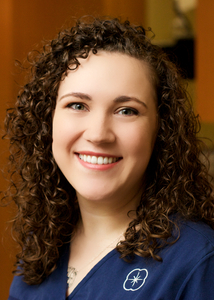 Chaney joined the Prospect Dental Care team in 2014 after earning her Bachelor's degree in the Science of Dental hygiene from the University of Louisville. Her excellence in academics as well as clinical courses allowed her too graduate cum laude. Chaney manages the continuing education courses for Dr. Cummins hygienists at the Prospect office as well as Dr. Cummins additional practice, located in the Westport Village area. Her mission is to keep all of her patients in a state of optimal oral health. Chaney provides her patients with exceptional care in a way that makes each and every person feel special. She is educated and sincere in her diagnose and treatment. She also provides her patients with the education necessary to maintain their oral health themselves in between their office visits. "I believe we must be partners with our patients in our goal to achieve the optimal care possible." Chaney fills her free time by enjoying the company of her friends and family.
Bethany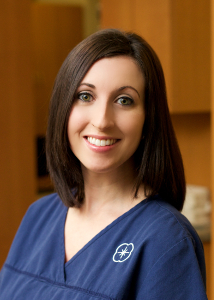 Bethany has been a dental hygienist with Prospect Dental Care since November 2015 when she made the move to Louisville from Indiana. She graduated from the University of Louisville with a bachelor's degree in dental hygiene in 2007. "I really enjoy the one on one time with each of my patients helping them to achieve their upmost oral health, as well as getting to know them on a personal level. Being as gentle as possible, I truly care for my patient's comfort, both in and out of the office. It's important to educate my patient's to continue their oral care at home as well as maintaining their routine scheduled hygiene appointments." Bethany lives in Henry County with her husband Joe and their son.
---
The hygienists at Prospect Dental Care implement the most up-to-date dental hygiene techniques available today. As a practice, we strive to continually improve ourselves and attend yearly courses where we learn the most advanced methods in providing the best possible patient treatment. The most recent continuing education courses include:
Total Patient Services care "No More Hygiene" – Created by Dr. Thomas Nabors, this course increases the clinician's knowledge of oral bacteria and how it not only causes periodontal disease, but the systemic effects that it can cause on the body. Hygienists get hands on training in bacterial testing in the dental office using microscopes to examine and diagnose harmful bacteria living under your gums. When bacteria invade the tissue, our hygienist are trained to test your saliva to identify the specific bacteria that is causing the disease. These bacteria are then identified by our hygienist who along with our doctors will collaborate to prescribe an antibiotic that will eliminate the underlying bacteria. This allows them to determine the underlying cause of each patient's specific treatment needs on a case by case basis. This is the most advanced research in the field today and Prospect Dental Care is proud to relay this knowledge to our patients in the form of periodontal therapy with excellent results.
Laser Debridement for Dental Hygienists – Hygienists attend a multi-day course where they receive advanced training in the use of lasers to treat periodontal disease. Lasers have been utilized in dentistry for years and now the hygienists at Prospect Dental Care are capable of using laser technology to disinfect the tissues around the teeth and allow the body to heal itself. The diode laser that is used takes about ten minutes' total. This procedure can be added to almost any cleaning appointment. This laser targets the specific bacteria that causes gingivitis and eliminates it for gingival health almost immediately. We can stop the bleeding and inflammation caused by gingivitis in one completely painless visit. The results of laser assisted periodontal treatment have been extremely successful and our patients are greatly enjoying the benefits of a healthy mouth.
Oral Cancer Detection
All of our hygienist are trained in oral cancer detection. At every appointment we will thoroughly examine your oral tissues for any visual sign of cancer or any other abnormalities. The tissues of your gums, cheeks, tongue, roof of mouth, under the tongue, back of throat and lymph nodes will be examined at every appointment. With this routine exam you can rest easier knowing that all tissues look cancer free.